The Prague-Vienna Greenways...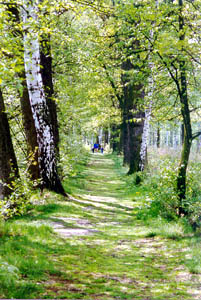 ... is a 250 mile long network of hiking and biking trails between Prague and Vienna. Travelers can walk or bike between historic towns and villages, visit romantic castles, medieval churches and monasteries, discover old Jewish sites and savor some of the most picturesque countryside in Europe. The routes stretch along the Vltava River Valley in Southern Bohemia and the Dyje River Valley in Southern Moravia, the settings of numerous folk and music festivals.
Prague-Vienna Greenways is a project of the Greenways-Zelene stezky organization, which is a member of the Environmental Partnership for Sustainable Development (Nadace Partnerstvi) in Brno, Czech Republic. The objective of these organizations is to restore and preserve the natural and cultural heritage of the region, and develop sustainable tourism.
By supporting local initiatives through grants and technical support, the Greenways-Zelene stezky program promotes the understanding of the greenways concept.
In 2001, local civic groups, cultural associations, small business owners and town and village governments had joined and formed the Prague-Vienna Greenways Association. More than 30 members now cooperate on local projects, organization of events and greenways sustainable tourism.

Lubomir Chmelar, the founder of Prague Venna Greenways, died on June 24, 2016. He was predeceased by his wife and co-founder Tiree Chmelar in 2005. The memorial celebration of his remarkable life and legacy will take place on July 30th in New York.
In lieu of flowers, the Chmelar family asks you to send donations in support of his beloved projects in the Czech Republic. Donations are tax-deductible.
Or by check made out to "Friends of Czech Greenways" with memo "Lu Memorial"
and mailed to: FCG, c/o Suzanna Halsey, 515 Avenue I #1B, Brooklyn, NY 11230